A decade has passed since the concept of fashion blogging entered the industry. After a tough battle, and going through difficult times, fashion bloggers are now considered to be a part of the fashion industry. They are considered to be important, can be seen at the front rows of major fashion shows and also stars on prominent magazine covers. Some fashion bloggers have really made it big, to become household names and multi million dollar business owners.
Here is a list of the top fashion bloggers from all over the worlds who have been influential to the industry, having a serious impact. :
 Chiara Ferragni, The Blonde Salad
This 28 year old Italian based in Los Angeles has managed to secure the high rank in several fashion blogger ratings. With over 25.6 million Instagram follows, a successful website which is popular in both USA and Italy, and 1.2 million of Facebook subscribers, she has the ability of moving a lot of product. She has a shoe line of her own named Chiara Ferragni Collection, which has 300 retailers all over the world. She is all set to open her own store in Milan, and will also launch an online shopping storing at theblondesalad.com. Ferragni was also named as global ambassador for Pantene.
 Aimee Song, Song of Style
Aimee Song is a 29 year old interior designer based in Los Angeles. Her sense of style is California casual types and she was one of the earliest bloggers to acquire a celebrity status. She stayed on top for a long time with 3.4 million followers on Instagram, great website traffic, a Pinterest page and YouTube uploads. Aimee also has an apparel and jewelry lines to her name.
 Kristina Bazan, Kayuture
This 22 year old Swiss blogger and model was named as a brand ambassador for L'Oreal Paris during October, which is quite an achievement. Her deal was a seven figure amount. She has over 2 million subscribers to her blog, and her Facebook following is among the highest among all fashion bloggers. She is associated with big brands such as Dior, Louis Vuittoon, Balmain, and Valentino.
 Julia Engel, Gal Meets Glam
Julie Engel, 23, from San Francisco launched her fashion blog in 2011 while she was in college. By 2013 her blog emerged to be a hit, and it became her full time business. She has acquired a huge fan base across Instagram, and Pinterest because of her pretty, feminine style and approach.
 Wendy Nguyen, Wendy's Lookbook
Wendy  Nguyen, based in Los Angeles has more than half a million of followers on Twitter, a huge Pinterest fan base, and an active, popular YouTube channel. Her YouTube videos have a large number of views. Wendy maintains the classic format of her blog, instead of focusing on other topics apart from fashion, which is a popular trend among fashion bloggers.
 Julie Sarinana, Sincerely Jules
Based in Los Angeles, 29 year old Julie Sarinana launched her fashion blog in 2009 and has a large Instagram following of 3.4 million. Sher sense of style is casual and accessible and she has a T-shirt line to her name.
Fashion blogging is a popular occupation these days, which many people are turning into a full time business. These fashion bloggers are considered to be among the top because of their popularity and quality.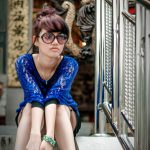 Fashion! Yeah, there is really no need to explain the importance of this in our lives. No matter wherever your life is taking you to, you will want to be among the best fashion choices in your clan. It does not only mean that you should have a great sense of dressing but fashion is hidden in all aspects of our lives – be it the aesthetic sense of your home décor or even the sense of designing your outdoors or the lifestyle you follow but more commonly how you live your life is what fashion is all about.