The future of fashion blogging has become a debatable topic today, as many eminent people from the industry thinks that the golden area of fashion blogging is over. However, fashion blogging is still an important practice which holds great influence with consumers. Many major brands have used this influence for several years. However, the prominence of the sponsored content model and the uprising bloggers as celebrities has caused some disdain. The future of fashion logging depends on the people who are determined to change the future.
 The power of networks
 The main task of an influencing network or agency is to form relationships between brands and content creators. While some agencies are able to manage ad platforms, others help in developing offline and online interests of their services and talents. The primary principle of an agency is the collective influence of the bloggers, but most agencies which are in the position to have that influence do no have the required understanding of doing it at a content level. The lack of understanding in reader experience, data analysis and several other aspects are indicating that agencies are capable enough of developing their maximum potential. The development of the platform at a continuous rate is very important. The development and management of in house technology assure that the bloggers get a robust platform for publishing and that they can depend on design expertise within the network for making their readers have the best experience possible. This also allows better data analysis and the potential to develop smarter campaigns.
 Engaging experience and high quality content
Online publishers have realized the value of presentation in creating content which not only depicts a story, but is present is such a way that the readers are guaranteed an interesting experience. Independent fashion bloggers
Within rapid changes taking place in the online publishing industry, fashion bloggers are kind of being left behind. In modern day and for the future. The most important thing that matters to content sponsor is audience reach. However, as the model is evolving, the blogs which hold the greatest value will be the ones that can create the ability to engage and move more audience.
 From influence to innovation
 Despite the simplicity and ease with which bloggers and their readers can be accessed, there has been a shift in the audience mentality, along with increasing constraints from different global trade authorities. This is causing brands to struggle in keeping their influencing campaigns successful and engaging. Some changes to the Office of Fair Trade rules in the UK have stated that bloggers have to declare when a post is sponsored by some brand. This dilutes the impact of a campaign.
Without companies and brands, providing financial support to bloggers for keeping their websites running, it seems that the future of fashion blogging might be uncertain. However, a new breed of bloggers are leveraging their expertise for bringing innovations in the industry.
Several experienced bloggers who have dealt with a lot of brands are becoming aware of the fact, that in order to survive in fashion blogging, new ways and strategies need to be worked out for generating revue and developing their business. Thinking outside the box is very important for fashion blogging to sustain and have a healthy future.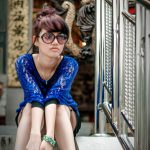 Fashion! Yeah, there is really no need to explain the importance of this in our lives. No matter wherever your life is taking you to, you will want to be among the best fashion choices in your clan. It does not only mean that you should have a great sense of dressing but fashion is hidden in all aspects of our lives – be it the aesthetic sense of your home décor or even the sense of designing your outdoors or the lifestyle you follow but more commonly how you live your life is what fashion is all about.