In today's time, Fashion blogs are definitely the most popular source of information that revolves around the domain of fashion. Going through the fashion blogs, fashion enthusiasts can gain all-inclusive information as well as follow the prevailing and the emerging fashion trends, across the globe. The articles underneath will discuss a few of the most popular blogs that people follows these days.
Zanita
Among the fashion enthusiast women in the US, this is one of the most popular fashion blogs. Zanita Whittington, an eminent model from the United States owns and operate this blog. This Aussie Supermodel in contemporary times dedicates herself in fashion blogging and fashion photography. Hence, visiting this blog, you can get to see exquisite fashion photographs, displaying some of the top fashion events. Operated by an eminent model, you will get her personal views that will enable you to strengthen your knowledge in the domain of fashion. Following this blog regularly, it will turn easier for you to keep pace with the existing and emerging fashion trends.
Rachel Et Nicole
If you are enthusiasts of alternative fashion, you will hardly have a better alternative to this blog. These New York-based sisters aim to welcome some new approaches and concepts in the domain of conventional fashion. This blog is more popular among the young ladies and the bigger girls.
Wide Eyed Legless
For the enthusiasts of minimalist fashion for women, this blog is one of the most popular fashion blogs. Owned and operated by Madelynn Hackwith Furlong who is a fashion designer, a stylist, fashion consultant, and art director. A multi-talented individual, Furlong has taken this blog as a platform to boost the fashion pursuits in women. Regular readers of this blog rate and review this blog on very high notes for the top quality information and the latest fashion news that it publishes.
Dear Milano
If you are a fashionable lady from the US and aspires to explore more about the fashion from Mexico, you don't have a better option that this blog. To the mass, this is the most reliable and trustworthy source to get the information on Mexican Fashion. Hence, this international blog enjoys a massive popularity among fashion enthusiasts across the globe.
Andy Heart
Through her extensive effort beyond this blog, Ann Kim has taken this blog to a massive popularity. This blog serves information and update on Minimalist fashion. In this domain of fashion, this blog is among one of the biggest players. Following this blog regularly, you can boost your knowledge on fashion and styling.
Brooke Testoni
Brooke is basically a native of Australia and he is a major name among the top fashion bloggers. She shares her name with her blog and she has been a cult figure in the domain of fashion in the US as well as in Australia.
The blogs mentioned in the paragraphs above holds a few millions of readers and hence, are among the most popular fashion blogs in contemporary times.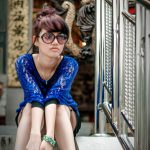 Fashion! Yeah, there is really no need to explain the importance of this in our lives. No matter wherever your life is taking you to, you will want to be among the best fashion choices in your clan. It does not only mean that you should have a great sense of dressing but fashion is hidden in all aspects of our lives – be it the aesthetic sense of your home décor or even the sense of designing your outdoors or the lifestyle you follow but more commonly how you live your life is what fashion is all about.