A fashion blog gives you all the intricate and trending details related to the latest fashion styles in the market. The new era fashion blogs cover a wide spectrum of things such as clothing lines, various brands, the new styles that have taken the market to a crazy level, fashion accessories, street fashion, beauty related tips, celebrity styles in fashion, street fashion, places to find all kinds of stuff that you may need, the latest work of designers and popular brands, the best places for affordable shopping and much more.
Here are 5 lessons learnt from new era fashion blogger
It helps to know the latest trends
With new era fashion blogging you will learn a lot about the latest trends and styles that are prevailing in the market. Many celebrities also keep a watch on such blogs from time to time and keep a check on what is the new thing in the market. Trends never remain the same way. It is continuously changing at a very fast pace. The clothing and accessories that you use today are completely different from what you may have used 5 years ago. It makes you aware of all the latest happenings in the fashion world, the new stuff that has arrived and new dressing styles that have evolved.
It impacts the fashion industry
Don't be surprised if you get to know that the fashion industry is also impacted by the fashion blogs to a large extent. The positive and negative feedbacks are very important for the fashion industry to determine exactly what are the customers liking and what are they not liking. They keep an eye on these blogs which have the power to influence people in a tremendous way and they see what the views of people are on different fashion trends by reading these blogs.
It is not necessary that every advice may suit you
It is not at all necessary that each and every advice may suit you on these blogs. They may be saying something about a brand that generally a lot of people may not be able to afford. Some dressing style may totally look weird on you even if it is trending. Some beauty tips may work totally opposite for you. So you have to be aware that everything mentioned in the blog is not directed for you. They bring out an overall picture and not the specific needs.
It is becoming a medium of commercialization
Blogs are slowly becoming a very good means of commercialization on a large scale. Some very good blogs have very high readership, so brands pay the blog owners to write positively about their brand or product. So the view may not be 100% neutral and objective. You have to use your mind before reaching any decision. However some blogs are highly credible.
It can give you new ideas and some useful opinions
You may get various ideas from new era fashion blogger. You can combine different styles to create your own new style if you continuously read about the fashion related topics. It is a wonderful way to get all fashion related knowledge and have some very informative opinions to create something new and trendy.
New era fashion blogger have the potential to influence the readers, but everyone should see the credibility and neutrality of opinion before choosing their favorite fashion blogs.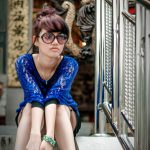 Fashion! Yeah, there is really no need to explain the importance of this in our lives. No matter wherever your life is taking you to, you will want to be among the best fashion choices in your clan. It does not only mean that you should have a great sense of dressing but fashion is hidden in all aspects of our lives – be it the aesthetic sense of your home décor or even the sense of designing your outdoors or the lifestyle you follow but more commonly how you live your life is what fashion is all about.